Clute is a city whose historic events extend to the earliest Anglo settlements in Texas. Alexander Calvit, one of Stephen F. Austin's "Old Three Hundred," acquired the title to the land in 1824. Later, in 1881, Solomon Clute purchased the property and changed the name accordingly.
Education is a major factor in the lives of Clute's residents, with the administrative offices of Brazosport Independent School District and Brazoswood High School located here, along with elementary and middle school facilities. Additionally, Brazosport College is a nearby asset to the community.
The city of Clute is actively involved with the fine arts aspects of the community, as it is home to The Center for the Arts and Sciences, which houses the Brazosport Art League, Brazosport Center Stages, Brazosport Museum of Natural Science, and the Nature Center and Planetarium.
Clute has long been known for its annual Great Texas Mosquito Festival, held the last Thursday, Friday, and Saturday in July at Clute Municipal Park. The festival's legendary mascot, "Willie Manchew," presides over such activities as the hilarious Mosquito Legs Contest, a 5K Mosquito Chase, a carnival, top-notch live entertainment, arts and crafts fair, food and more.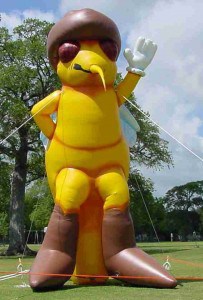 New growth in Clute is accentuated by several residential subdivisions, new retail centers and recreation such as Mammoth Lake Dive Park. The park was developed at the site of an old sand pit where remains of two Colombian mammoths were discovered in 2003. Texas A&M students and the Brazosport Archeological Society fellows removed the skeletons but a replica of the tusks and other artifacts are on display at a local restaurant .
Clute is truly a great family-oriented community offering superb recreational, cultural and educational opportunities.
Clute Links and Information