CHI St. Luke's Health – Brazosport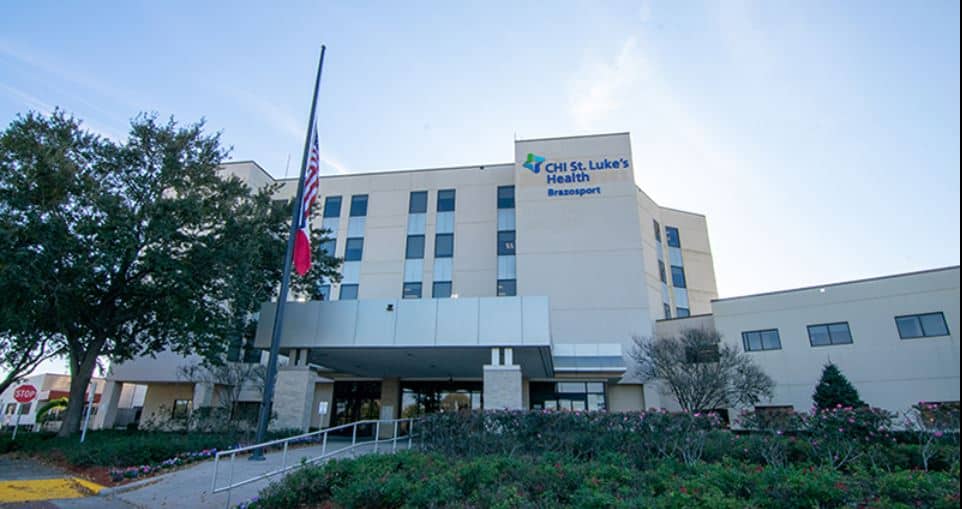 Since our founding in 1961 as The Community Hospital of Brazosport, St. Luke's Health Brazosport has taken pride in serving the people of the Brazosport area with compassionate, high quality healthcare services right here in our community.  Through the years, St. Luke's Health Brazosport has not only added services that were critically needed by our community, but it has also made major enhancements in a number of clinical areas, such as advanced cardiac care, comprehensive cancer care, Joint Commission Primary Stroke Accreditation and state of the art of emergency services, including a new Trauma Level III Emergency Department.
Since our alignment with Catholic Health Initiatives (CHI) in 2016, CHI St. Luke's Health Brazosport has the stability to continue to enhance our community hospital.  In addition, the direct alignment with St. Luke's Health in Houston, enables the Brazosport community to have expanded access to care provided at Baylor St. Luke's Medical Center, the Texas Heart® Institute (THI), a world-class cardiovascular research and education institution, and the Baylor College of Medicine (BCM), which is ranked as one of the top academic science universities in the country.
St. Luke's Health is part of CommonSpirit Health, a nonprofit, Catholic health system dedicated to advancing health for all people. It was created in February 2019 through the alignment of Catholic Health Initiatives and Dignity Health. CommonSpirit Health is committed to creating healthier communities, delivering exceptional patient care, and ensuring every person has access to quality health care. With its national office in Chicago and a team of approximately 150,000 employees and 25,000 physicians and advanced practice clinicians, CommonSpirit Health operates 142 hospitals and more than 700 care sites across 21 states.
As CommonSpirit Health, we make the healing presence of God known in our world by improving the health of the people we serve, especially those who are vulnerable, while we advance social justice for all.
With the rapid growth in our community, St. Luke's Health Brazosport is poised to continue our proud heritage of providing the right care, right here.
UTMB Health Angleton Danbury Campus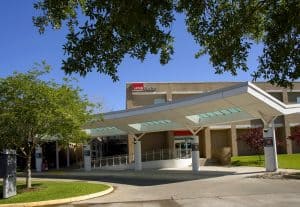 For more than 130 years, the University of Texas Medical Branch (UTMB Health) has served the people of Texas and the world as a leading academic medical center. The Angleton Danbury Campus proudly provides the best community-based health care to southern Brazoria County.
The hospital, 132 E. Hospital Drive, features all private patient suites, comprehensive inpatient and outpatient surgery, acuity adaptable unit (AAU) or ICU, women's health services, a full range of diagnostic imaging services—including an accredited 3D mammography unit—and physical, occupational, speech and pulmonary therapies, as well as a 24-hour emergency department. The Surgical and Cardiac Care Center, Professional Building I & II, and the Frank W. Stevens Center for Health and Wellness complete the Angleton Campus.
UTMB Health offers primary and specialty care for Angleton and surrounding communities with 15 clinics and 39 physicians and health care providers.  Other services include internal medicine, pediatrics, obstetrics, gynecology, comprehensive breast health services endocrinology, orthopedics, urology, pulmonary, sleep, vascular surgery, colon and rectal surgery, neurology, and cardiology.
Residents can now easily access UTMB Health Primary and Specialty Care in the Dave Bleakney Building, 2309 W. Mulberry in Angleton. The renovated 18,735-square-foot Bleakney Building opened in August 2021 and is home to family medicine, urgent care, orthopedics, endocrinology, and neurology services. The building has 36 spacious exam rooms, full-service radiology, and laboratory services as well as a state-of-the-art security system.
Need evening or weekend health care? The UTMB Health Urgent Care Clinic in Angleton treats minor illnesses or injuries that do not require an emergency room visit.  Clinic hours are 9 a.m. to 9 p.m., seven days a week.  Holiday hours may be different.  To schedule an appointment, call the Access Center at (800) 917-8906.
Other Brazoria County locations include a multi-specialty and urgent care clinic in Alvin at 2020 E. Highway 6 and the Regional Women's Services & Pediatrics clinic, 1108 A. East Mulberry, Angleton.
Find out more about the UTMB Health Angleton Danbury Campus, the health care providers and other support services at www.utmbhealth.com/adc.